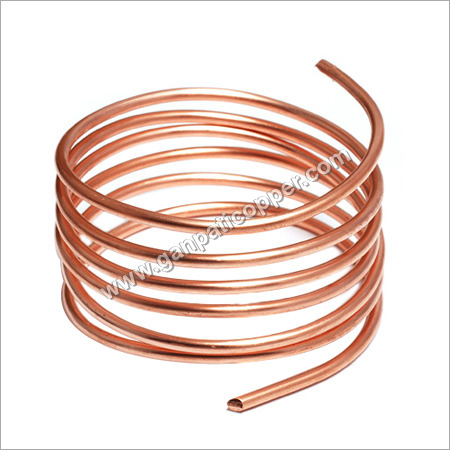 Bare Copper Wire
Price And Quantity
Product Specifications
Electric Wire and Cable (Bare, Solid , strands)

Bared Copper
Good Conductor

Power Transmission Line
High Voltage

300/300 : 300/500 : 450/750 Volt (V)
Reddish-Orange Color

Depend on Products
Product Description
Welcome to GANPATI ENGINEERING INDUSTRIES !
!!! World's leading manufacturer & supplier of Bare Copper Wire !!!

| Easy To Bend | Highly Resistant | Highly Malleable | Astm B1 Based Design | Reasonable Prices |
We commenced our business in 1977 as the manufacturer, exporter and supplier of Bare Copper Wire. The offered wire finds its applications in electrical industry for earthling, panel electrification lines and anodes. This wire is manufactured using premium quality copper and modern techniques with the help of our diligent professionals. Furthermore, our clients can avail the provided Bare Copper Wire in different finishes and lengths at reasonable prices from us.

KEY DETAILS:
Easy to bend | 99.90% pure Copper|Purity is concerned|Superior Dimensional Control | Fit to International Standards

High Durability And Sturdiness | Excellent thermal and electrical conductivity | Confirm with BSS/ISS standards

Its annealed for high Strength and high Ductility at room temperature
Highly resistant to water, oil, grease and acids |Good conductor of electrical energy

High level of tolerance owing to their optimum flexibility | Excellent resistance against corrosion
Heat resistant, these wires can handle high load of electricity
It's extremely used to ground electrical systems | Easily find in Solid or Stranded type; in soft or hard wired
The wires are highly malleable and thus, can be formed into any shape
Excellent resistant against moisture, chemicals, heat, corrosion and abrasion
Generally needed in distribution, uninsulated hookup, and overhead transmission, etc.
In case of extremely high temperature; this wires have special properties to Breakdown Voltage
Excellent Solderability | Low Coefficient of thermal expansion | Excellent creep resistance | Reddish-Orange Color
Tensile Strength: 200–250 N/mm2 | Density : 8.94 | Melts: 1080°C | Boils :2325°C
(5.99 MM to 0.05MM):
B-1 Hard-Drawn Copper Wire
B-2 Medium-Hard Copper Wire
B-3 Soft or Annealed Copper Wire
B-8 Concentric-Lay-Stranded Hard, Medium-Hard or Soft Copper Conductor
B-33 Tinned Conductors
B-787 19 Wire Combination Unilay-Stranded Soft copper wire.
Construction :
Solid or Concentric stranded hard drawn bare copper conductor.
Application :
For aerial power transmission and distribution line, circuit ground connections as well as machinery and equipment grounding.
Specification :
Bare conductors have been designed according to ASTM B1.
Marking :
Indent and embossed mark are printed on solid conductor o central wire for stranded conductor, if requested.
Installation :
Hard drawn copper conductor can be installed in air. It is recommended that the installation instructions indicated by the Local
OTHER AVAILABLE RANGE:
Bare Super Enamelled H Class Copper Wire | Bare Super Enamelled F Class Copper Wire
Bare Super Enamelled Winding Copper Wire | Bunched Bare Copper Wire
Bare Super Enamelled Coated Copper Wire | Bare Super Enamelled Wire
Bare Earthing Wires|Indian Bare Copper Wires | Bare Round Copper Wires
APPLICATION AREA:
Used for electrical grounding | Light and heavy transit systems|Overhead power source for subways
Electrically powered mine trains|buses and industrial cranes
BUYER DETAIL:
DELIVERY TERMS:

Sample Assistance: Yes , can be provided on demand | Time Period: Depends upon quantity required | Delivery Cost: Can be given at the time of Order

QUICK DETAILS:

Verification: Done | Hot Markets: Wire and Cable Companies, Electrical Markets | FOB Price: Daily Price , Works on London Metal Exchange
Minimum Quantity: 100 Kgs. / Size | Payment Terms: 100 % Advance Payment | Guarantee & Warranty: Yes

PRODUCT SPECIFICATION:

Product type: Bare Copper Wire

Uses: For Electrical Use , Current Supply , Etc.
Size: As per Buyers Requirement
Material Used: Copper
Dimension Available: As per Buyers Requirement
Manufacturing Process: Drawing
Customisation Possibilities: Yes
Product Edge & Strengths: Best Possible
Specfication: Bare conductors have been designed according to ASTM B1
Construction: Solid or Concentric stranded hard drawn bare copper conductor
Trade Information
As per demand Per Week

7 days Days